Free Bitch
I was fifteen years-old when my dad told me my nose ring took away from my natural beauty. His dad echoed the sentiment. "Tell Ashleigh to take that thing out her nose," I heard my grandfather say while I spoke to my grandmother over the phone shortly after my school pictures arrived. I'm 27 now and still wear a ring in the center of my face.
As a young child I pierced my belly-button by myself, and later my nipple, when my mom refused to take me to have it done professionally. That's probably why she didn't flinch when I asked to have my nose pierced when I was a freshman in high school. She drove me to a local tattoo and piercing shop where she could ensure the use of sterilized equipment and professionalism. I think my parents were surprised that I didn't immediately get a tattoo when I turned eighteen. It seemed like a natural progression, given my rebellious history.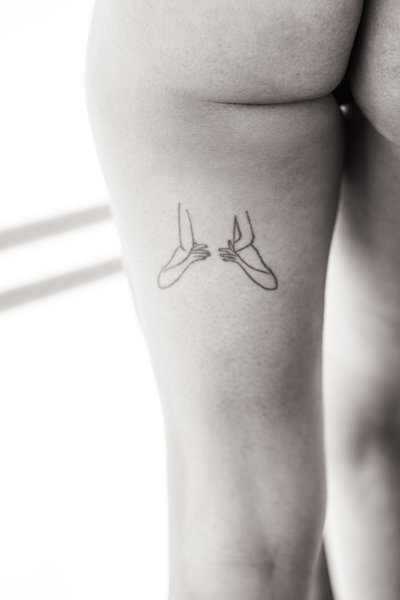 "This is the perfect representation of my life's theme of sexuality."
I've always thought tatts were cool but I had my reservations. I used to say I didn't want a tattoo because most people have them and not having one made me unique. Then I pondered, what on earth means so much to me that I must have it permanently etched in my skin? Once, after a high school breakup, I almost impulsively got "have faith in it" inked on my wrist, hoping that someday I'd end up with the guy. I'm glad my older sister talked me out of it.
I didn't let the opinion of two men closest to me deter me from wearing a nose ring, so the idea of people being "turned off" by my tattoos was never one of my hang-ups. I did, however, wonder what would happen if my opinion of my tatts changed. What if I woke up one day and suddenly wanted to be pure? What if I just didn't like what I'd chosen anymore? I also considered that my body wasn't a clean canvas and I didn't want to add anything to the "mess" of my imperfect skin. For years these things kept me from committing to a tattoo until one day I just didn't care anymore.
I did some research on who were the best fine-line tattoo artists in New York City and landed on a guy named Ok at a place called West 4 Tattoo. Because this would be my first tattoo and it required precision I wanted to go to a reputable establishment. I saw that some celebrities frequented this shop and I was willing to pay top dollar to ensure quality. After grabbing food with a childhood friend one January night in 2017, I dragged him along with me to get two small, defining words needled into the back of my left arm, above my elbow. Two-hundred overpriced dollars later I had my tramp stamp: Free Bitch. And free I was. Free of my reservations and doubts, free of the bounds of social stigma, free to be me—a positive affirmation to carry with me for the rest of my days.
Two weeks later I found myself back on West 4th Street. The second time around I got a tattoo to commemorate my December 24th birthday. I stuck to the small, fine-line theme of my first tattoo and got a simplified outline of a Christmas tree topped with a star on the inside of my left leg. To me it's a kitschy, tongue-in-cheek statement. People may look at it and think, "Christmas must be her favorite holiday," but really I'm not religious/into commercialized holidays and if I were, a Christmas tree wouldn't be what I'd use to represent it. 
My most recent tattoo is an abstract piece by an artist unknown to me. The image of a woman sitting on a guy's lap, facing him, with his hands around her waist immediately spoke to me when I saw it on my Twitter timeline. I thought, this is the perfect representation of my life's recurring theme of sex and sexuality. All the times I've been in that particular position ran through my mind. I saved the picture and got it tattooed on the back of my left thigh a few months later by a random tattooer in Los Angeles.
I know I'll get more ink as ideas, inspiration, and reminders come to me. I'm liking the unintentional pattern of having understated art placed on the back of my body, so I think I'll move forward with that trend. I'm already plotting on a Selena Quintanilla portrait on my shoulder blade.
The night after getting my tatts I always have a nightmarish dream that I got a crummy tattoo I'm unhappy with. Then I wake up relieved that my real body art is what it is—a snapshot in time and a reflection of who I am. "No regerts."